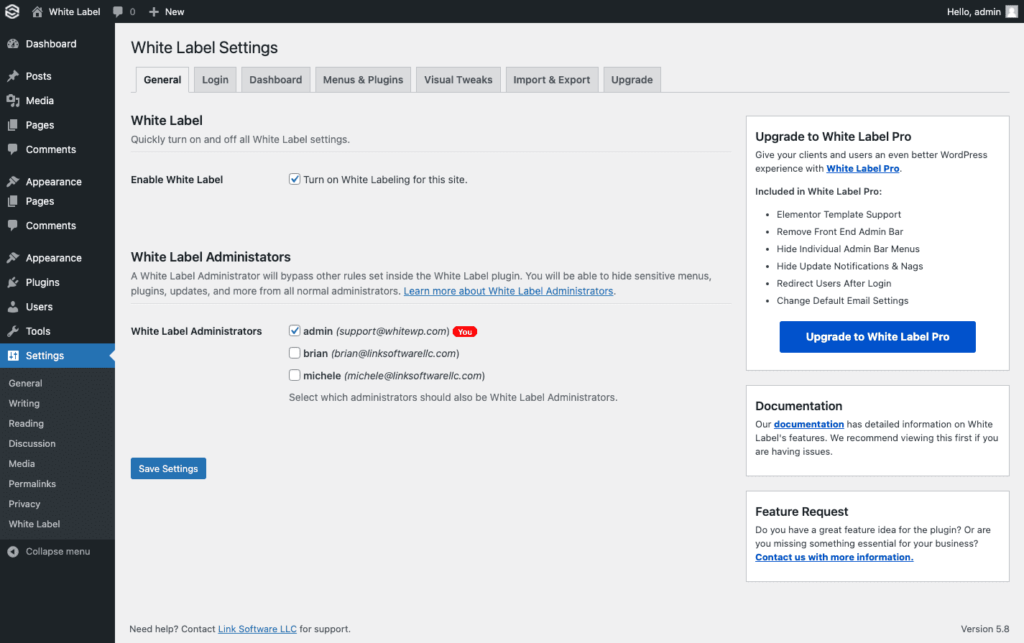 Inside White Label you will be presented with a list of all administrators on your WordPress site. In most cases, you'll select yourself as a White Label Administrator. This way you will be able to limit various aspects of the WordPress site for normal Administrators while keeping unrestricted access for yourself.
But why would you need this?
The default administrator role has unrestricted access to all aspects of the site including uploading, deactivating, or deleting plugins. They can also access the built-in code editor in WordPress. One mistake there and your site will break!
Sometimes a client or a co-creator may need administrator access to manage areas of the site. But full access can be dangerous if you're not completely confident in their technical ability.
Introducing White Label Administrators
White Label Administrators are the site maintainers, developers, and those who need unrestricted and exclusive access to all of a site's settings.
A White Label Administrator will bypass other rules set inside the White Label plugin. You'll be able to hide sensitive menus, plugins, updates, and more from all normal Administrators.
This will allow you to create a safer experience for your clients while giving them basic Administrator access at the same time.
Super Admins (WordPress Multisite only)
If you are using WordPress with a multisite network, then you'll need to know that Super Admins (Administrators who control the whole network) will bypass all White Label Rules.
Super Admins will also not show up in the White Label Administrators settings because they will always have full access.
You can read more about White Label & WordPress Multisite Compatibility in our Documentation.