WordPress 5.3 introduced the concept of administration email verification. Ever since that release, users see the WordPress admin email verification screen in order to confirm the email address for the website is correct.
This is a nice bit of security and a thoughtful way to make sure a site's settings are current. Of course, it's also an incredibly confusing break from the normal login process for most WordPress users. Here's an example of what this screen looks like. It appears immediately after a user finishes logging in with their username and password: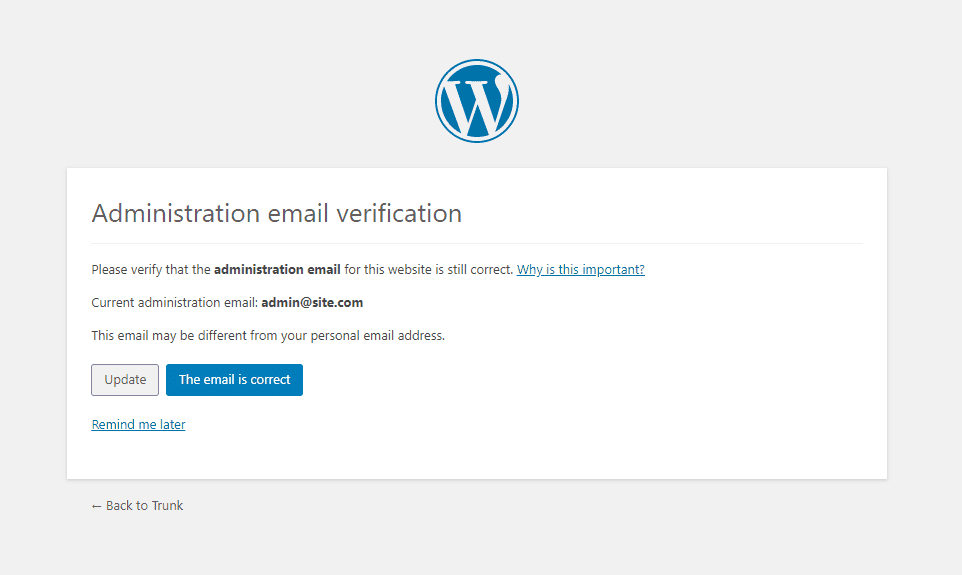 Our plugin, White Label Pro, has a feature that allows you to turn off the WordPress admin email verification screen. This feature is flexible. You, as the site's main administrator, will still see the screen on its regular schedule. Your other admin users will be exempt from being shown this screen. Their login process will never be interrupted again.
Let's go over the steps to remove this feature from your WordPress installation.
Remove the WordPress Email Verification Screen
To begin, you will have to purchase a license of White Label Pro. After purchase, you will need to install and activate the plugin on your WordPress install. If you need assistance, our site has extensive documentation that can help you install White Label Pro. Once the installation is complete you can head over to White Label Pro's setting screen. You will find the setting for disabling the email verification under the Miscellaneous tab.
Scroll to the Email Settings section of the Miscellaneous tab. You will find a checkbox here that will let you turn off the verification:

All you need to do is check the box and save your settings. White Label Pro will immediately prevent your admin users from seeing the verification screen in the future. There is nothing else for you to do in order to disable this core feature of WordPress.
Discover More Features in Our White Label WordPress Plugin
White Label is built for developers and agencies. Its goal is to help people customize and rebrand the WordPress admin experience. Our plugin has dozens of ways you can change the WordPress admin to better fit your clients and their needs. On a visual level, you can use White Label to change colors and logos throughout the admin including the login screen. White Label also helps you modify what happens after your clients log in as well. You can rename or even hide menus. Turn off plugins or change their text entirely to obfuscate what you have installed. There are lots of additional features and you can learn about them by reading our documentation.