Our White Label WordPress plugin has dozens of individual features you can use to customize the WordPress admin experience. Many of our users, and customers who upgrade to White Label Pro, use the plugin on all of their client sites. While White Label does support Multisite out of the box that is not the solution for everyone's situation. Some WordPress developers and agencies set up individual installations for their client sites but wish to keep them all on the same White Label settings. Fortunately, you can import and export White Label settings very easily using the plugin's built-in system.
Let's go through the simple interface so you can learn how to export out your White Label settings to import them into a different WordPress installation.
Import and Export White Label Settings
To start, you'll need to have White Label installed and running on two sites. You probably have figured that out if you are reading this. Just in case, we have articles on how to install White Label and how to install White Label Pro if you need help. Once your installations are complete, head to your WordPress admin and access White Label's settings screen. You will see a tab called Import & Export which is where we want to go.
Immediately, at the top of the tab, you'll see the interface you use to import and export White Label settings: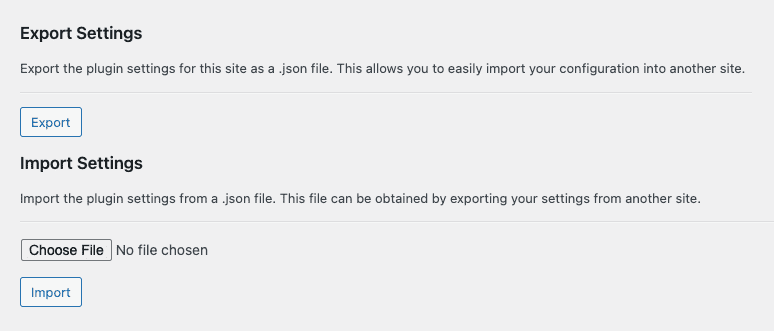 On your first site, press the Export button, and White Label will generate and download your settings into a JSON file. Remember where the file was saved because you'll need it soon. Next, go to your second site and head to the same Import & Export tab. This time you'll press the Choose File button, select the JSON files you created a moment ago, and then press the Import button to finish the job.
That's all you need to do. Your second site will immediately have all of the same settings as your first site when the import is complete. Please check out our documentation if you have any more questions about how White Label or White Label Pro work.