White Label Pro, the premium version of our free white labeling plugin for WordPress, has a feature that allows you to change plugin details displayed in the admin. It is possible to use this feature to change the details of every plugin that has been uploaded to your WordPress installation. Our customers find this useful if they want to obscure or hide the name of a plugin from their clients.
You have to purchase, install, and activate White Label Pro to use this feature. Our documentation has instructions on how to install White label Pro. After your installation is finished, you can go to the Menus & Plugins tab of White Label Pro's settings. This is where all of the controls exist for you to change WordPress plugin details in your admin.
Make a Change to WordPress Plugin Details
At the Menus & Plugins tab, look for the Plugins section. This section contains a list of every plugin currently installed on your WordPress site. The list is all-inclusive. Plugins that are not active display alongside active ones. Find the plugin that has details you want to change and click on the link that says Plugin Details.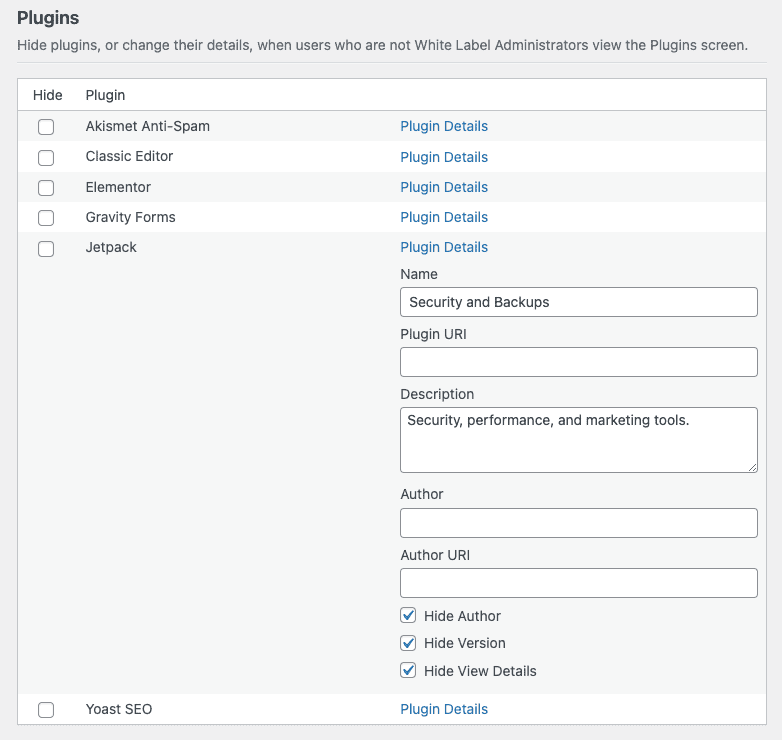 In our screenshot, we've made some changes to the Jetpack plugin's details. We are changing the plugin's name, and description, and hiding the author, version, and the view details link. In total, with White Label Pro, you can change the following plugin details:
Name
Plugin URI
Description
Author
Author URI
The following plugin details can be hidden:
Author
Version
View Details
Here is what the Jetpack plugin's details look like without any changes:

Here is what the Jetpack plugin shows after applying our White Label Pro settings to change the plugin details:

It's that simple. You can use White Label Pro to modify every plugin installed on your site. This is a simple way to control exactly what your clients can see on the Plugins screen. White Label's features to rename WordPress menu items and hide WordPress menu items can combine with this feature nicely. All three can help you completely obscure many of the plugins on your client's site.
Interested in More Ways to Customize WordPress?
Our plugin, White Label, has dozens of features to help you customize the admin experience for your clients. Remove references to WordPress, change the login display, add your client's branding with new colors and logos, and much more. View our documentation for a full list of all of the things you can do with our White Label WordPress plugin.