Let's discuss how you can best hide WordPress plugins from users inside of the WordPress admin. Why would you want to do this? For several reasons. First, you might not want your users to see all of the plugins you are using on their site. For instance, maybe you are running a simple redirection plugin that you would prefer your users can't see to meddle with your settings. Or, perhaps, you don't want your admin users to be able to follow specific developer links inserted into a plugin description. There are tons of reasons to want to hide WordPress plugins so let's talk about the easiest way to do it.
Hide WordPress Plugins on the Plugins Screen
First, you'll want to install our White Label or White Label Pro plugins for WordPress. Both versions of our plugin let you hide WordPress plugins from the admin's Plugins screen. For White Label Pro users, there are some additional features to let you change WordPress plugin details.
Head to the Menus & Plugins tab of White Label once you have either of the plugins installed and activated. On this screen, there are a lot of options for how you can white label WordPress by changing menus and plugins. Today, we're going to focus on the Plugins section at the top of the screen.
The free version of White Label will look something like the following screenshot. Of course, your view will be different depending on the plugins you have installed on your site.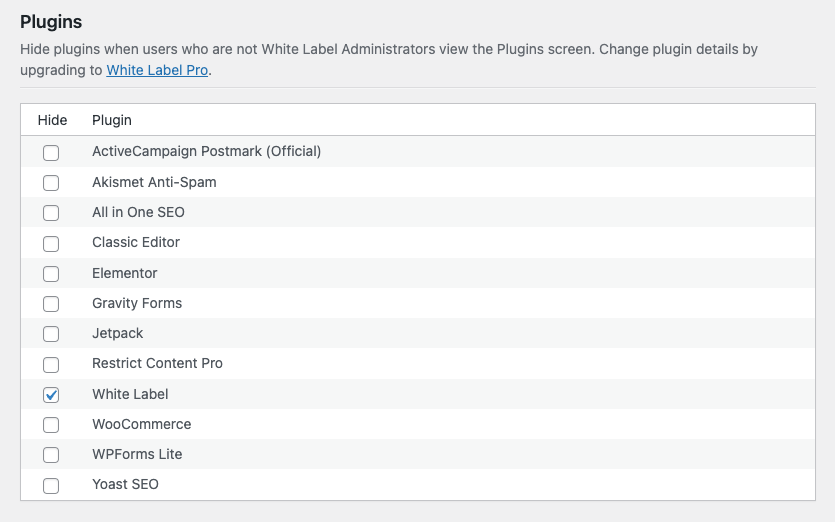 Simply click the checkbox next to each plugin you want to hide on the Plugins screen of the WordPress admin. In our example, we're actually hiding the White Label plugin itself because we don't want our site admins to know we're using it. Press the Save Changes button when you have chosen the plugins you want to hide.
That's all there is to it. Now, when your admin users visit the Plugins screen the plugins you have chosen will not appear. The plugins will still be operational and appear in the site's main menus. To disable or change those menus, you can use some of White Label's menu features to truly customize the plugin experience.
Discover More WordPress White Label Features
White Label works with more than just plugins. You can add your own custom logos, change colors, and tweak menus. There are even ways to add your own custom dashboard content. Learn more by visiting our documentation.