White Label Pro, our premium plugin, has a feature built-in to let you change a WordPress admin menu icon. This is an especially useful feature for changing the icons of plugins. Our customers also like to replace icons for core WordPress features with images that better match their renamed menu text. Either way, White Label Pro offers a simple solution for replacing admin menu icons in WordPress.
As we mentioned, this feature is exclusive to White Label Pro and is not available in the free version of our plugin. You will have to purchase and install White Label Pro in order to begin. You can find out more about how to install White Label Pro by visiting our documentation.
In this document, we will show you how to find the settings to change WordPress admin menu icons on your site. We will also explain what icons you can use to replace the default ones and where we get these icons from.
Change WordPress Admin Menu Icon
In White Label Pro's settings, go to the Menus & Plugins tab. Scroll down to the Sidebar Menus section and you will see three options: Hide, Rename, and Dashicon. We are interested in the Dashicon column for this feature but you can learn more about hiding WordPress admin menus and renaming WordPress admin menus in our documentation.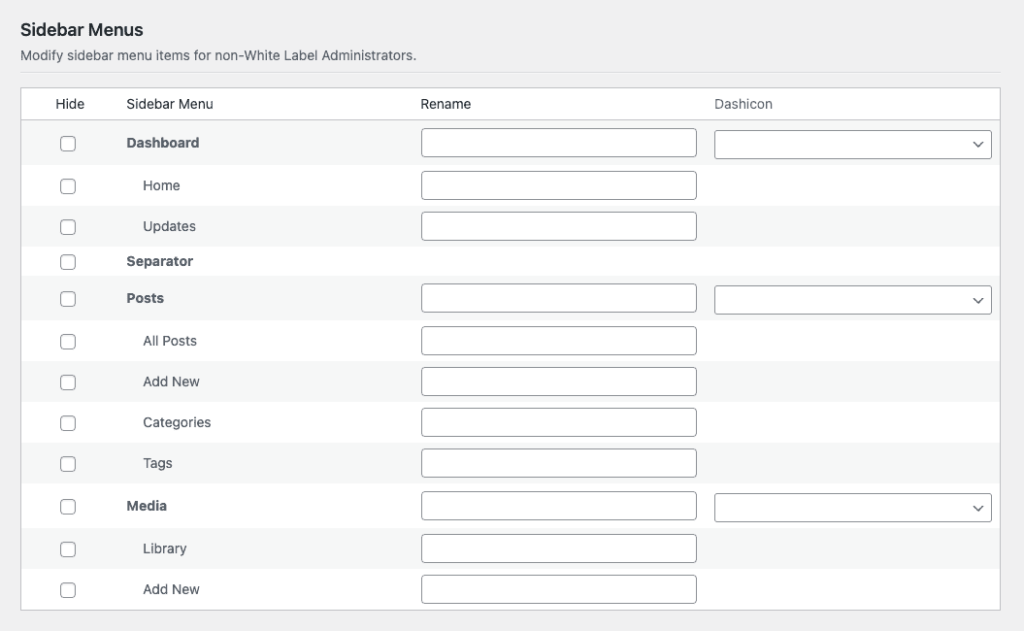 White Label Pro uses Dashicons as replacement icons for menus. Simply visit the list of Dashicons provided at WordPress.org, find the perfect icon to replace your chosen menu item's icon, and select it from the dropdown. Click the Save Settings button at the bottom of the screen and you're all set. Now, all non-White Label Administrators will see your chosen Dashicon instead of the default.
Please note. This only works with the sidebar menu at this time. Admin bar menu icons can not be replaced at this time.
A Note on Dashicons
White Label Pro utilizes Dashicons, and not custom icons or uploads, to offer replacement menu icon options. We chose this because Dashicons is built into WordPress already and offers hundreds and hundreds of icons. Our goal with White Label is to be a plugin that is easy to install and configure and the less we rely on third-party sources and uploaded media the better it is for sites to migrate settings between clients.
Other WordPress Menu Options for White Labeling
White Label Pro can do a lot more than just change icons in your admin menu. For menus, in particular, White Label Pro offers quite a lot more. You can rename menu items or hide them completely. You can build a custom menu experience, from the ground up, for all of your WordPress sites. Learn more by reading our WordPress menu documentation.